We use our 100 years of experience and knowledge
to make your home warm and quiet for years to come.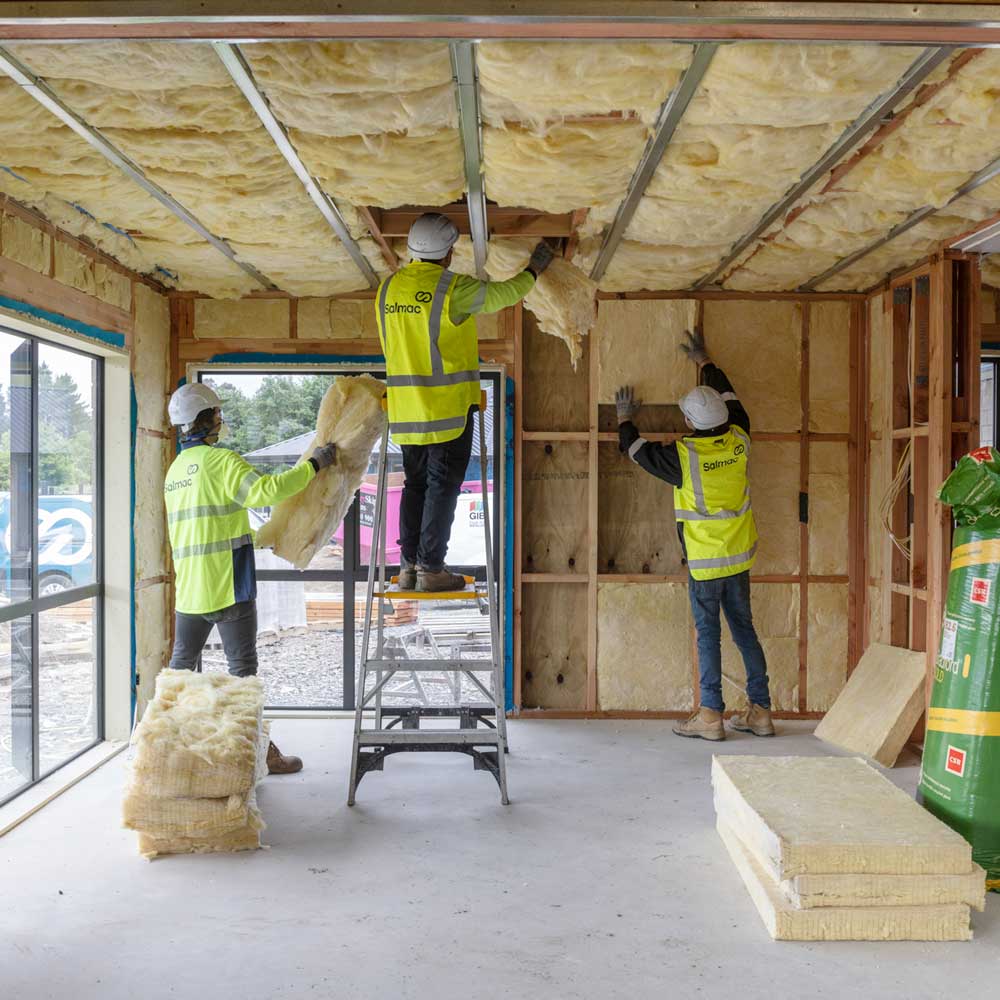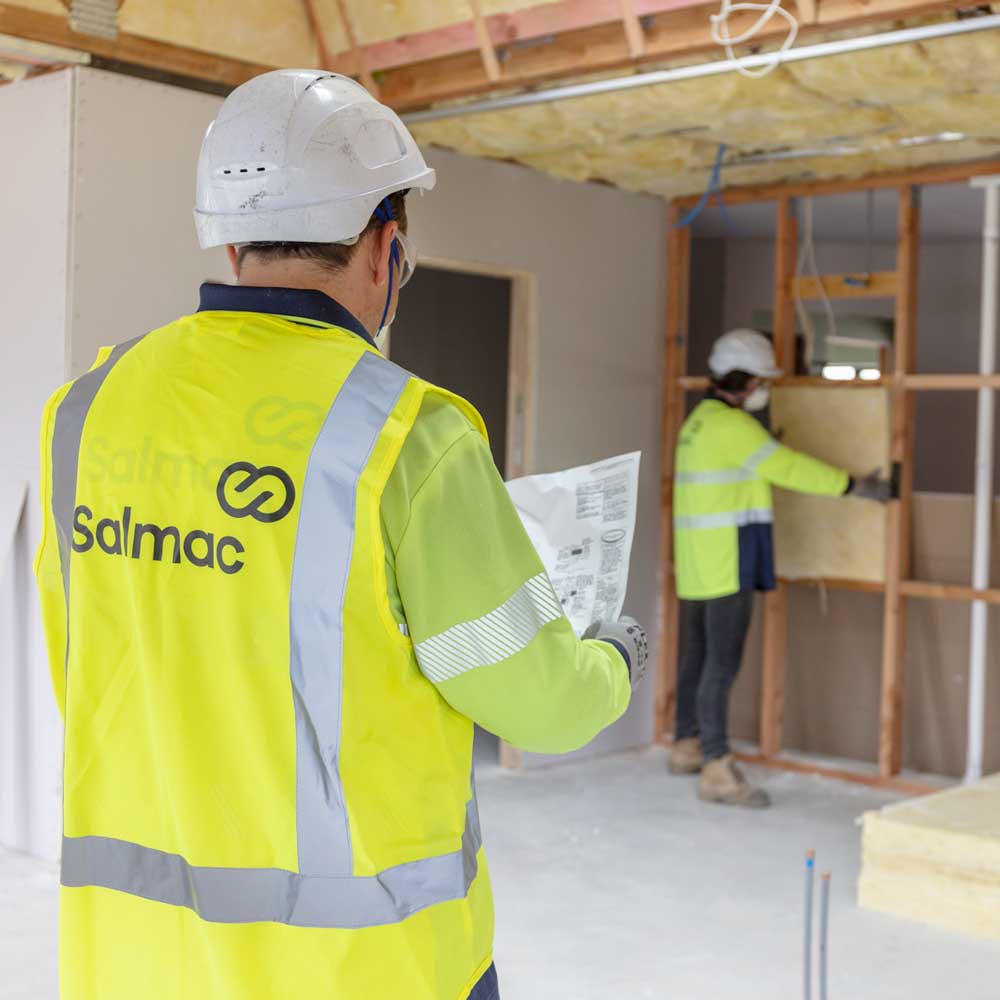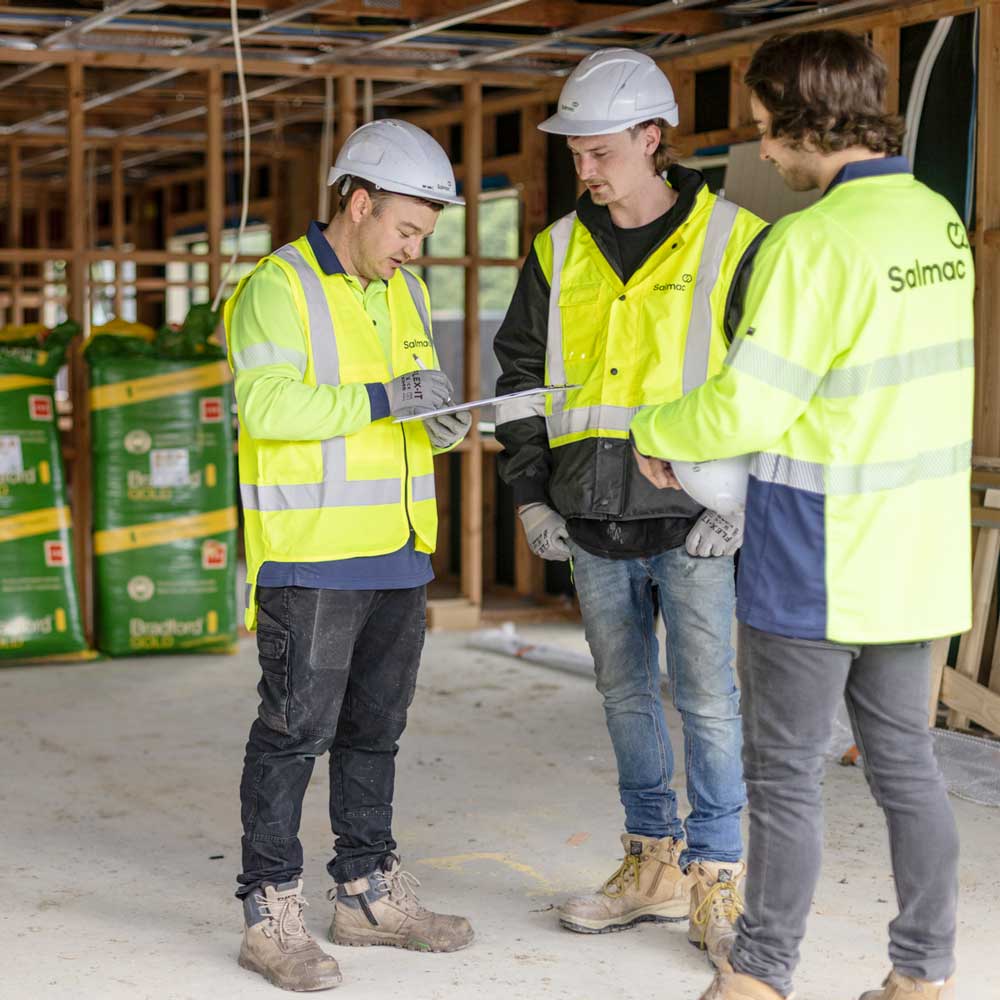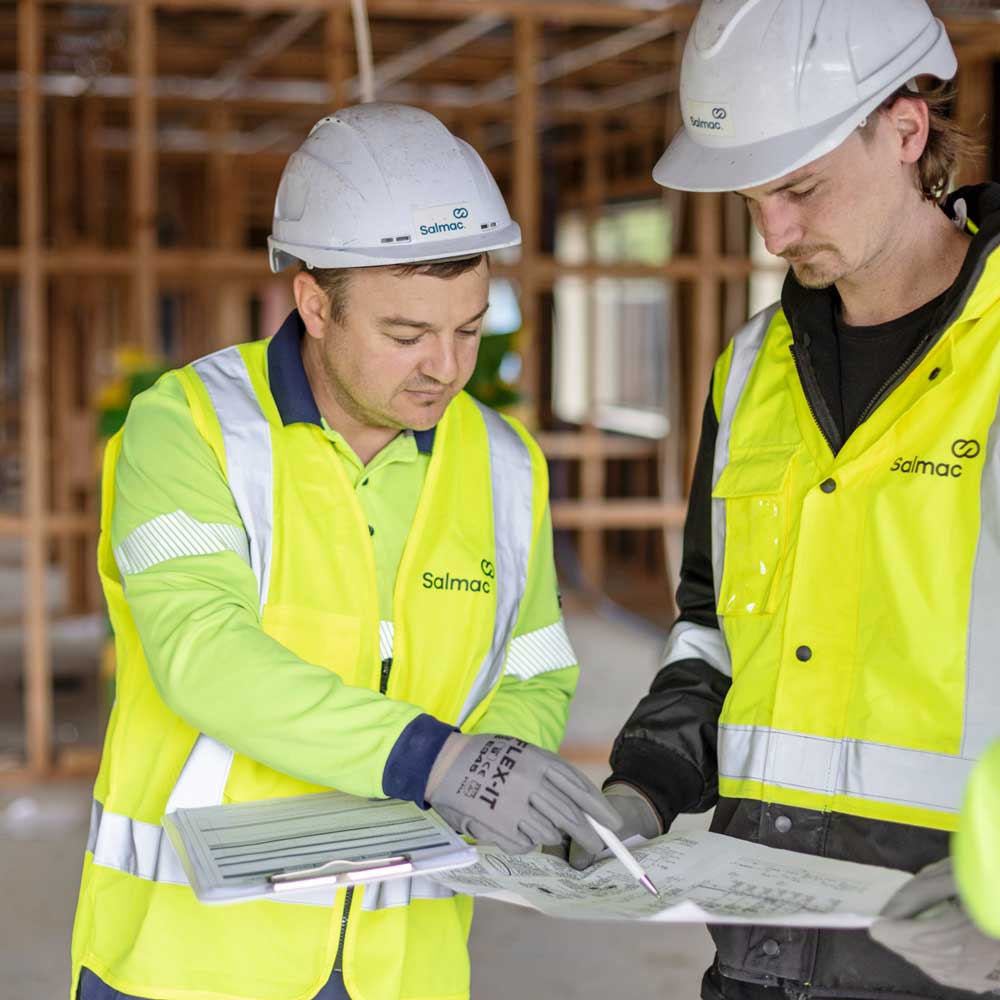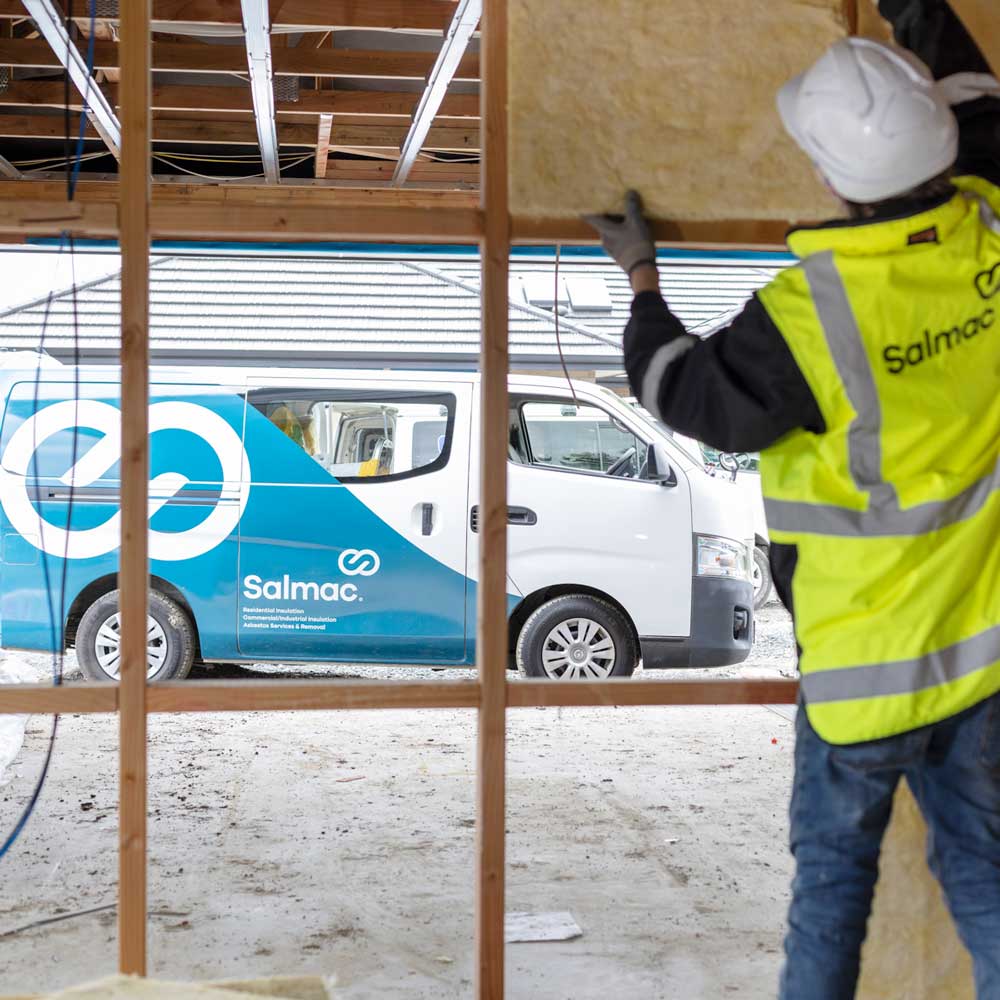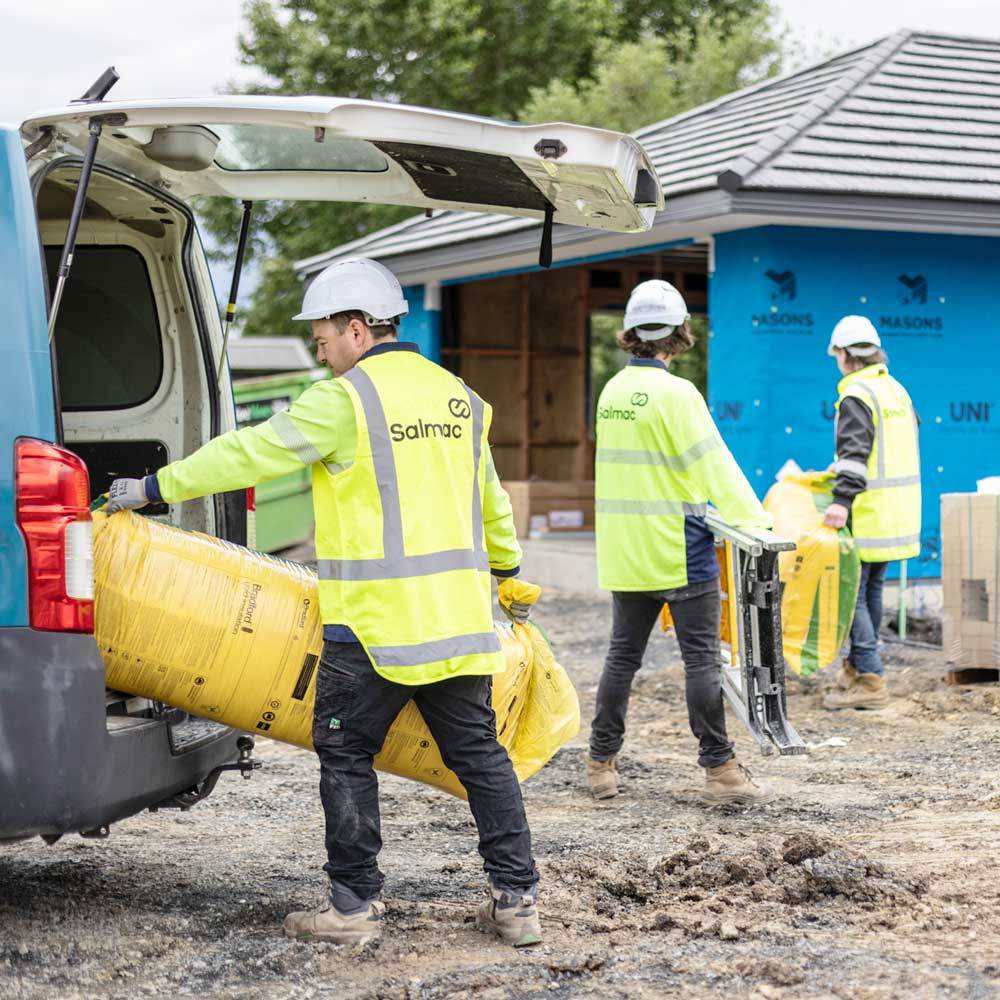 Request a FREE Home Assessment
Up to 35% of heat is lost through the ceiling in winter if you have no insulation in your roof. Ceiling insulation will keep you warmer in winter and cooler in summer.
Ceiling insulation is usually the quickest and cheapest form of insulation and will significantly impact your heating bills. Adding more heat without preventing heat loss is an expensive way to address the comfort of your home. So, insulation is the logical first step. Any ceiling insulation needs to be professionally installed and thick enough to work in your environment.
Pink Batts Ceiling Insulation
Pink® Batts® ceiling insulation is a lightweight, flexible glass wool insulation product made in New Zealand by a trusted manufacturer. Non-combustible – will not easily burn in the event of a fire. Made from over 80% recycled glass-making sustainable use of waste and designed for New Zealand building conditions. Pink Batts has an excellent reputation and has been keeping New Zealand homes warm for over 50 years.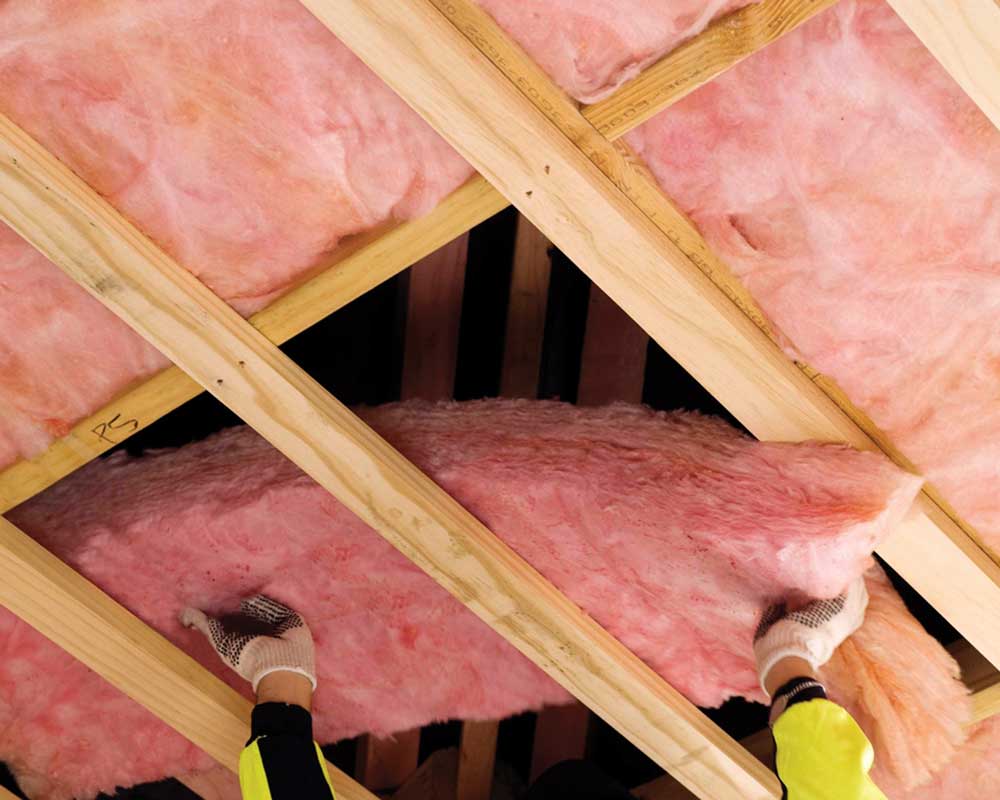 Bradford Gold Ceiling Insulation
Bradford Gold insulation is a trusted brand of glass wool insulation in New Zealand. CSR manufactures it in Australia for local use. Glass wool insulation is the most common insulation product used in residential buildings worldwide. They are proven performers as thermal and acoustic insulation products at a cost-effective price. These products have been thoroughly tested over many decades and are safe to install and use in your home.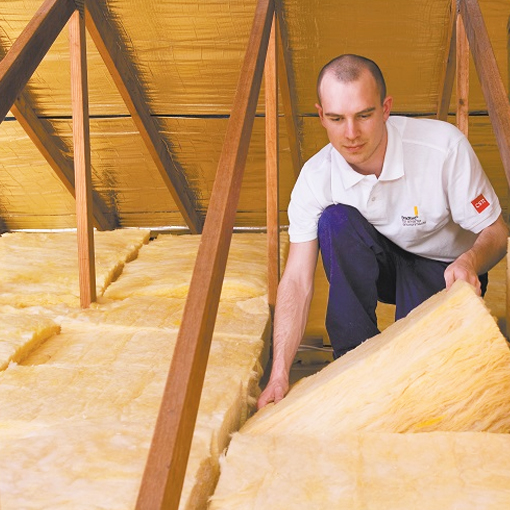 Mammoth Ceiling Insulation
100% polyester insulation made of fibres made from plastic bottles, which would otherwise be waste. NZ made, with manufacturing facilities in Auckland and Milton (near Dunedin), non-itch, non-toxic, safe & easy to use, and long-lasting.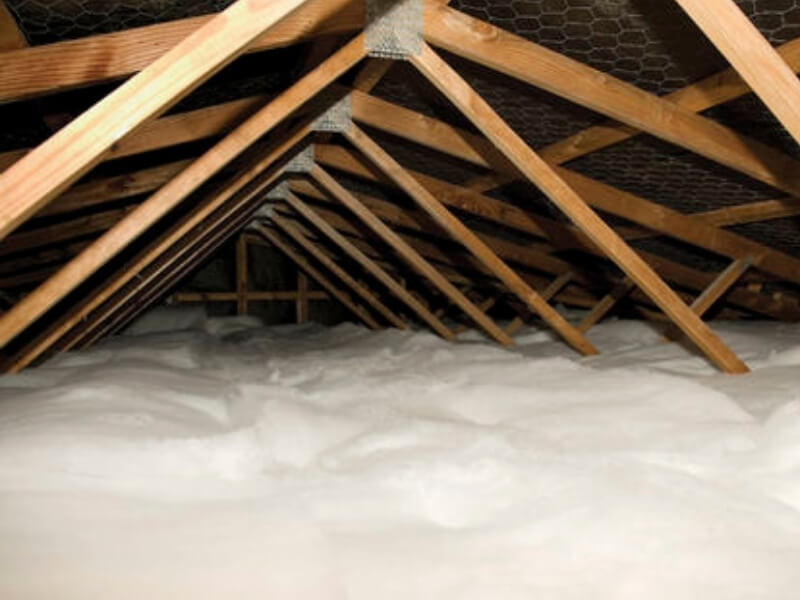 Underfloor Insulation
Your home can lose more than 10% of the heat through the floor.
Underfloor insulation can reduce draughts as well as dampness. It can limit moisture from rising into the house from a wet or damp crawl space below, creating a warmer, drier room. However, some forms of insulation don't cope well with the damp conditions under your home and can sag after some time, becoming less effective. We have a range of high-quality underfloor insulation options and are experts at crawling around under floors, installing insulation quickly and safely to make your home warmer without fuss.
Mammoth Underfloor Insulation
Our choice for underfloor insulation is Mammoth 100% polyester insulation. We favour it because it is NZ-made, non-itch, non-toxic, safe & easy to use, and the polyester fibers have a permanent heat bond that is long-lasting.
There are two options to choose from: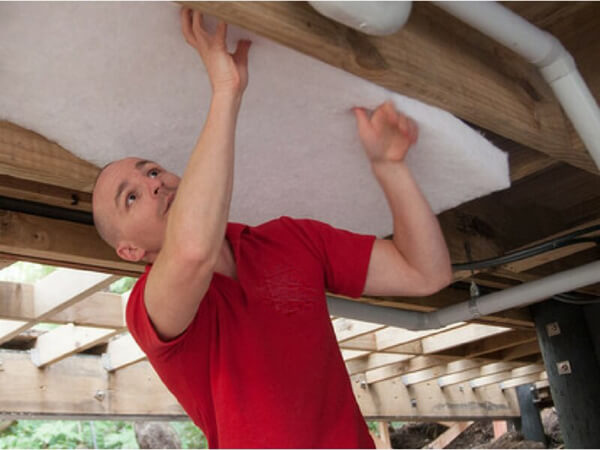 Underfloor Insulation Sections
High performance, self-supporting insulation sections for floors.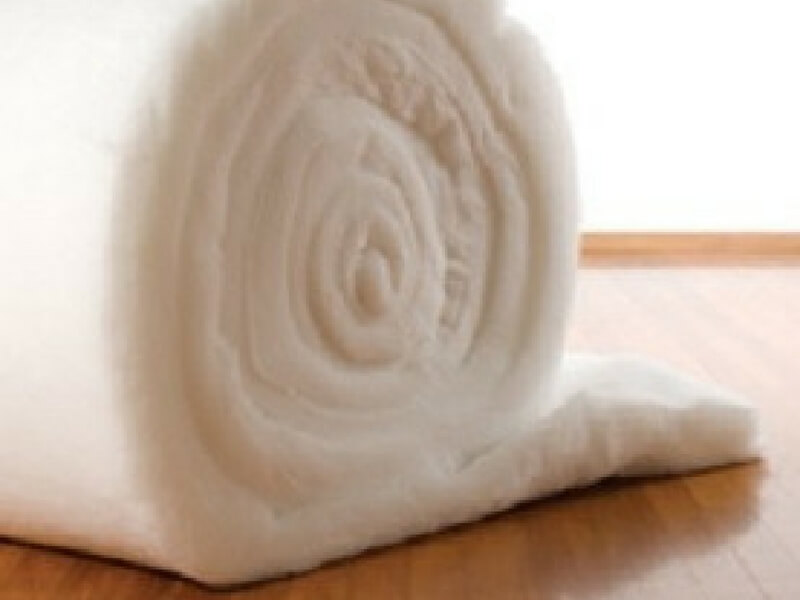 Polyester Underfloor Insulation Blanket
A cost-effective underfloor insulation blanket.
Ground Moisture Barrier
Any moisture underneath or around the edge of your floor can make your house damp and musty. Unfortunately, it can also reduce the effectiveness of your underfloor insulation. Although dehumidifiers help the symptoms of damp problems, better drainage and/or an on-ground vapour barrier will fix the cause of the issue in many cases.
If the space beneath your house is damp, you will need to get any drainage issues checked by a professional such as a plumber.
Rental properties with suspended floors, where the subfloor space is enclosed, must have a ground moisture barrier (unless it is not reasonably practicable to install one).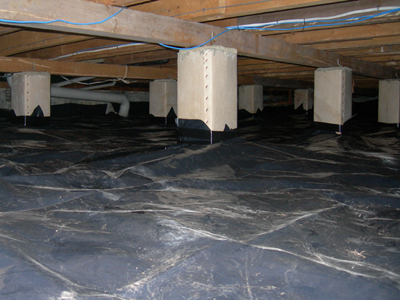 Request a FREE Home Assessment
FAQ
Our frequently asked questions below about how and where to insulate your home
Where To Insulate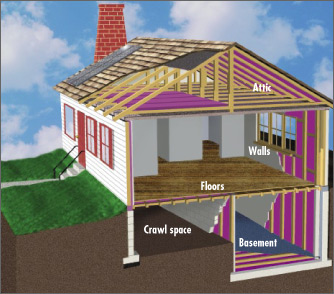 In new dwellings attend to:
Ceiling
Walls
Underfloor
Mid floor ceilings
Inter-room soundproofing
Hot water cylinders
Pipework
In existing dwellings attend to:
Ceilings
Underfloor
Walls if accessible
Hot water cylinders
Pipework
Salmac has all the products you require. Diagram showing the main areas of a home that should be insulated.
Insulation
Properly insulated homes can use 30 – 50% less energy than homes without insulation. Lining your "thermal envelope" – adding materials that don't readily allow heat to leak through your walls, ceilings, floors, from around your home's foundations and its ductwork – saves energy by keeping heat in during the winter and keeping heat out during the summer.
The effectiveness of a piece of insulation is measured by its R-value. The R-value in insulation designates its resistance to heat flow. The higher the R-value, the greater the insulating ability – the more effective it is. Generally speaking, each time you double the R-value of insulation, you cut your conduction heat loss in that area in half.
Adding insulation to an uninsulated attic is the most cost-effective, energy-saving measure you can do. Most older houses were built with little or no insulation. For our regional climate, we would recommend R4.0 for ceilings, R2.6 to R2.8 for walls and good high-density friction fit for underfloor.
Putting It In Place
You can greatly increase the energy efficiency and comfort of a home by installing insulation with an R-value higher than the minimum requirements. But to truly enjoy the benefits of insulation, it must be installed correctly. Compressing it or leaving gaps through which air can flow can cut insulation's effectiveness in half.
When insulating your attic, it's important not to clog the attic vents under the eaves. Keep air circulating freely above the insulation by installing baffles (typically a piece of fiberglass batt placed several inches away from the vent).
For fire safety, keep insulation clear of heat-producing devices such as doorbell transformers and recessed lights, flues or vents from furnaces, water heaters, fireplaces, and exhaust fans.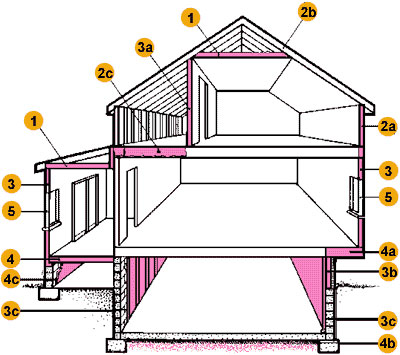 In unfinished attic spaces, insulate between the ceiling joists to seal off living spaces below.*
In finished attic rooms with or without dormers, insulate:

a. between the studs of "knee" walls,
b. between the studs and rafters of exterior walls, and
c. ceilings with cold spaces above.

All exterior walls, including:

a. walls between living spaces and unheated garages or storage areas,
b. foundation walls above ground level, and ,
c. foundation walls in heated basements (foundation can be insulated on inside or outside of wall).

Floors above cold spaces, such as vented crawl spaces and unheated garages, and:

a. any portion of the floor in a room that is cantilevered beyond the exterior wall below,
b. slab floors built directly on the ground,** and
c. foundation walls of crawl spaces and perimeter plates.
d. Add storm windows as recommended.
*Well-insulated attics, crawl spaces, storage areas, and other closed cavities should be adequately ventilated to prevent excessive moisture buildup.
**Slab on grade is almost always insulated, in accordance with building codes, when the house is constructed.
Choosing Insulation
Ceiling insulation can be made from polyester, wool, fibreglass and a range of other materials. Your professional installer will advise which is best for your home. If you are comparing different types of insulation, remember to check the following:
The insulation product should have been tested to the

New Zealand Standard NZS 4246:2016. Look for a NZS 4246:2016 compliance statement on the packaging.

In addition, look for manufacturers' performance guarantees offered on the products
Which is best – segments or blanket insulation?
Insulation may be sold as segments, which fit between the joists above your ceiling, or blankets, which are rolled out across the top of the ceiling and over the joists. Segments are our first choice.
Take extra care around downlights, fans, chimneys, and flues
Downlights, extractor fans, chimneys, and flues can produce a lot of heat, so special care needs to be taken during installation. This is why the government recommends having your insulation installed by a professional.
If you have recessed downlights and insulation, you should check your ceiling insulation occasionally. This is to make sure it hasn't slumped towards your downlights, creating a fire hazard.
We can supply and advise on a full range of insulation to suit your requirements. There are several questions to consider before making an insulation decision:
Level of comfort
How good is the insulation at its job?
Its effectiveness is measured by its R-value.
Cost comparison
How does the cost of the insulation compare with similar products?
A fair price comparison should include the sq metre coverage and the insulation value (R-value) of that coverage.
Sustainability
How much-recycled content does the insulation have?
Is insulation made locally?
Product safety
Fire-safe – will the insulation catch alight if there is a fire or is it non-combustible?
Safe to use – is the insulation proven to be safe to use?
Assurance
Does the insulation have independent confirmation of its quality and life span (a BRANZ appraisal)?
Is it made by a reputable company with a long track record of manufacturing insulation.
Types of Insulation
There are a number of different types of insulation available to make your home more cosy and cost-effective:
Polystyrene (but not in the ceiling)
Fibreglass
Wool
Polyester
Mineral fibre
Ceiling and underfloor insulation first
Your ceiling should be first priority – this is where up to 35% of all heat is lost. Don't burn money on an expensive heating system unless you've insulated your home properly first.
If feasible, you should get underfloor insulation installed at the same time as your ceiling insulation.
Insulation Effectiveness
How insulation works – and how to tell if it will do the job
There are three factors that determine whether insulation delivers the goal of a warm, dry house. These are:
The thermal resistance (R-value)
The quality of the product used
How well it is installed
Thermal resistance (R-value)
Insulation performance is measured by its thermal resistance (R-value). The higher the R-value on an insulation product, the more it slows down heat loss.
R-value level depends on a number of things, such as the type of material, density, and thickness.

Higher R-value = Better insulation
For underfloor insulation, always try to use a high-density product. Because heat rises, the R-Value is not of many benefits in underfloor insulation. A high-density insulation product will restrict the cold air that is sucked through the floor.
Product quality
Good quality insulation is more likely to do its job and remain effective for years to come. Here's what to look for:
Performance guarantees. Don't accept anything under 20 years – some products come with 50-year performance guarantees.
Product testing. We recommend products tested to the AS/NZS 4859.1 2018 Standard. Compliance with this standard is now required by law for all insulation products used in new houses.
Professional installation is best
Our installation team is trained to select the most appropriate products for your home, and install them in accordance with New Zealand Standard NZS 4246:2016
How much Insulation do you need?
It all depends on how cold it gets where you live. Here are the recommended minimum insulation levels (R-values) for existing homes:
MINIMUM RECOMMENDED R-VALUES FOR EXISTING HOMES
North Island
(excluding Central Plateau)
South Island and Central Plateau
Ceilings with 0-75mm of existing insulation
R2.8 blanket or R3.4 segment insulation
R3.2 blanket or R4.0 segment insulation
Ceilings with 75-120mm of existing insulation
R1.8 blanket insulation
R2.4 blanket or R2.6 segment insulation
Underfloor
R1.4 bulk insulation
R1.4 bulk insulation
Walls
Check the thickness of your wall cavity and find the highest R-value product at that thickness
How important are climate zones?
New Zealand is divided into three climate zones, ranging from relatively warm to cool and frosty during winter.
CLIMATE ZONE 1
All areas north of, and including, Franklin District. Thames-Coromandel is also part of Climate Zone 1.
CLIMATE ZONE 2
All North Island areas not covered by Climate Zones 1 and 3.
CLIMATE ZONE 3
All of South Island and North Island Central Plateau (Taupo and Ruapehu Districts, and north of Rangitikei District).
If your house has more than one story, you only need to insulate the main upper ceiling. However, you might want to insulate ceilings between floors if the ground floor is a separate flat. This can be done with sound-proofing insulation to control noise – giving you two benefits for the price of one!
Foil Based Product
Foil Insulation: What you need to know
Foil insulation was once the most common material used for underfloor insulation in New Zealand. The performance of underfloor foil is dependent on how well it is installed. The air gap between the floor and the foil needs to be well sealed which is very difficult to achieve. Any air movement between the floor and the foil will reduce the foil's effectiveness, as will dust settling on the foil over time, which reduces its reflectivity. Foil insulation can also be damaged easily, e.g. by wind or cats. (Source: EECA).
Ban on the installation and/or repair of foil insulation
Damaged foil will need to be replaced with bulk insulation as you are not allowed to repair foil insulation in residential buildings. Retrofitting or repairing foil insulation under floors was banned from 1 July 2016. This practice can be dangerous – the risk is that people using staples or nails to attach the foil to timber members accidentally pierce a live electrical cable. There have been five electrocution deaths and one non-fatal shock reported in New Zealand from installation of foil insulation under houses.
More information
For more information, please see the following links:
Rental Insulation
Since 1 July 2019, ceiling and underfloor insulation is compulsory in all rental homes, where it is reasonably practicable to install. Our experienced assessor can conduct a free assessment of your property to ensure it meets the standards.
Since 1 July 2016, landlords have needed to provide an insulation statement in all new tenancy agreements. Contact us today for a quote.
For more information, please access the Tenancy Services website: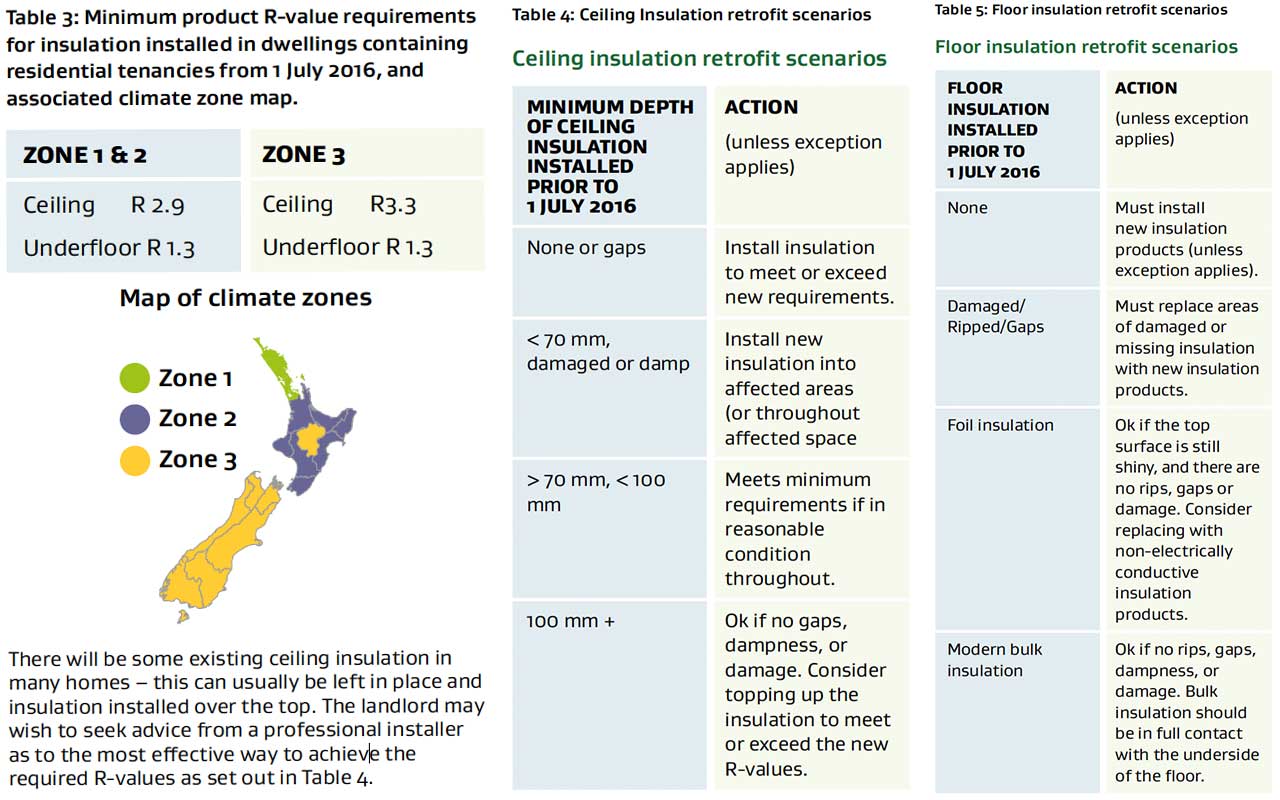 If you have any questions about what we do, please contact us today.
Weekdays :  8.00am - 4.30pm